---
Available maps: 227 - Average Tile cost: 1325

- Mine contains an extremely hard section, with a God's shield


- Mine contains an amethyst

- Mine contains a ruby

- Mine contains a black pearl

- Mine contains a topaz

- Mine contains a sapphire

- Mine contains a Treasure (Artifact) Part

- Mine contains a Hera's Key

- Mine contains a door which requires a Jadeite Key to be opened

To progress through the region players have to complete all main locations (yellow framed)
All locations listed as side quests (blue framed) are optional, as is clearing the mines.


New quests can be found in Athens City and/or Olympus

Summary

| | Tiles | Clear Bonus | Energy Requirement | Rare | Average Materials |
| --- | --- | --- | --- | --- | --- |
| Total | 163,989 | 21,948,022 | 217,313,163 | 32 140 81 44 79 63  3  3  3  3  3  3  3  3  3  3 | 7,015,781 2,853 3,023 3,731 546 17,186 5,325 417 208 6,047 239,940 710 8,476 7,569 294 5,037 146 4,206 63 241 184 1,546 2,496 249 3,893 6,191 2,229 4,135 578 40 155 8,978 3,676 3,876 1,678 5,665 508 1 17 3 995 62,614,260 |
Main Map
Map
Tiles
Clear Bonus
Energy Required
Additional Info
Maps
Video
Olympus
0
-
-
New Quests
Fishermen's Island
1,571
67,000
664,220
Island of Relaxation
818
60,000
600,800
Island of Greek Ruins
608
48,000
480,470
Mycenae
633
65,000
625,500
Sparta
1,212
73,000
760,420
Athens Square
493
93,000
885,600
Decrepit Olive Farm
505
30,000
324,435
Coast of Lemon Trees
441
30,000
309,450
Octopus Sea
395
30,000
304,280
Foundry of Gods
275
30,000
312,450
Cedar Mountain
501
39,000
383,850
Temple of King Sapphiros
624
80,000
792,970
City Swamp
534
65,000
614,250
Sewers of Lerna
384
54,000
535,150
Temple of Godly Knowledge
1,134
89,000
786,610
Forest of Mischief
1,026
90,000
913,050
Mount Olympus
848
65,000
745,550
Divine Skies
589
75,000
731,750
Total
12,591
1,083,000
10,770,805
Father
Available after completing Thebes Suburbs (Heracales' Labours - 9th Quest in Hera)
Map
Tiles
Clear Bonus
Energy Required
Additional Info
Maps
Video
Rusty's Prison*
84
10,000
97,600
Town of Marathon
739
70,000
698,040
Thermopylae Mountain Pass
473
75,000
749,990
Island of Salamis
945
70,000
697,250
3x
Available after completing Journey of Jealousy (Trap for Aphrodite - 12th Quest in Hephaestus)
Map
Tiles
Clear Bonus
Energy Required
Additional Info
Maps
Video
Olympic Stadium
485
76,669
766,690
Olympic Stations
799
100,000
1,004,580
8x
Olympic Closing Ceremony
1027
79,000
797,710
Available after completing Aphrodite's Apartment (The Golden Net - 12th Quest in Ares)
Map
Tiles
Clear Bonus
Energy Required
Additional Info
Maps
Video
Macedonian Kingdom
359
79,500
794,650
3x
Persia-Greece Border
693
93,000
932,000
River Hydaspes
860
81,000
809,010
Available after completing Entry to the Underworld (Mother of God - 12th Quest in Dionysus)
Map
Tiles
Clear Bonus
Energy Required
Additional Info
Maps
Video
Plato's Cave
526
84,220
842,200
City of Greek Artists
593
85,000
847,700
City of Syracuse
553
81,000
808,140
6x 10x
Plato's Academy
237
42,000
409,700
Available after completing In Between Three Worlds (Fate of the World - 12th Quest in Hades)
These 7 mines are interconnected, special keys have clues on them.
Map
Tiles
Clear Bonus
Energy Required
Additional Info
Maps
Video
Statue Of Zeus At Olympia
798
120,000
1,213,050
2x
Hanging Gardens Of Babylon
641
110,000
1,081,520
5x
Temple Of Artemis At Ephesus
1,283
90,000
898,250
Great Pyramid Of Giza
411
84,400
844,700
2x 2x
Mausoleum At Halicarnassus
511
79,800
798,850
10x
Colossus Of Rhodes
359
85,700
857,200
Lighthouse At Alexandria
798
72,000
709,150
4x 2x
Total
13,174
1,668,289
16,657,980
Zeus
Map
Tiles
Clear Bonus
Energy Required
Additional Info
Maps
Video
Cyclades
1,023
80,000
838,180
Temple of Zeus
568
80,000
776,760
Mount Pelion
618
68,500
682,550
Zeus' Stops
997
80,000
800,530
2x 2x
Argos Suburbs
645
100,000
1,098,700
Artemis' Forest
727
80,000
892,150
Serifos Island
713
79,000
788,450
Village in Thebes
860
137,000
1,371,650
Greek Pastures
550
84,000
836,390
Total
6,701
788,500
8,085,360
Sidequest - Little Sneferu Hero
Available after quests: Heracles in Danger, Level: Greek Pastures &
Atlantis-Atlas Sidequest: Sneferu Family, level: Aquaton Tribe
Map
Tiles
Clear Bonus
Energy Required
Additional Info
Maps
Video
Chiron's School Of Heroes
592
67,500
675,290
2x
Road Around The Sphinx
356
56,700
576,100
Camp Of Amazons
594
58,000
581,950
Total
1,542
182,200
1,833,340
Hera
Map
Tiles
Clear Bonus
Energy Required
Additional Info
Maps
Video
Hera's Sanctuary
660
85,000
847,800
Athenian Suburbs
1,607
120,000
1,114,810
Hera's Temple
892
145,000
1,512,700
Couplesville
540
72,000
721,260
Aiakos Island
929
135,000
1,236,740
Temple in Thebes
753
84,000
844,790
Kefalonian Countryside
976
76,000
771,385
Roadtrip of Amends
966
90,000
840,360
Thebes Suburbs
743
160,000
1,593,150
Total
8,066
967,000
9,482,995
Sidequest - Nemean Lion
Available after quest: Heracles' Labours(9th Hera quest), Level: Thebes Suburbs
Map
Tiles
Clear Bonus
Energy Required
Additional Info
Maps
Video
Nemea
511
75,840
758,450
City Of Lerna
446
68,900
689,050
3x
Trip Around The World
758
90,000
902,600
4x
Mount Erymanthos
593
86,400
865,350
Stables Of King Augeas
502
68,800
686,200
Lake Stymphalia
554
72,156
721,565
Island Of Crete
649
70,000
705,490
2x
Thrace
1,209
98,000
979,500
Island Of Amazons
340
70,350
703,550
Geryon's Farmland
426
70,000
696,600
Garden Of Hesperides
986
95,000
945,955
3x
Depths Of The Underworld
483
75,000
749,200
5x
Total
7,457
940,446
9,403,510
Aphrodite
Map
Tiles
Clear Bonus
Energy Required
Additional Info
Maps
Video
City of Corinth
746
75,000
750,430
Cythera Island
476
67,000
670,900
Aphrodite's Sunken Temple
809
90,000
915,120
Glamtown
791
95,000
944,200
Forest of Enchanted Trees
615
92,500
874,250
Persephone's Crib
997
250,000
2,446,150
Lover's Walk
1,215
117,000
1,160,550
Mount Ida
872
145,000
1,446,650
Coast of Cyprus
674
80,000
903,700
Land of Vanity
727
145,000
1,464,200
Path of Punishment
927
100,000
1,062,450
Road to the Underworld
642
76,000
759,150
Total
9,491
1,332,500
13,397,750
Hephaestus
Map
Tiles
Clear Bonus
Energy Required
Additional Info
Maps
Video
Blacksmith's Shrine
677
72,000
726,700
Temple of Fiery Lava
699
95,000
952,900
Lemnos Island
814
75,000
674,300
4x
Sleepy Volcano
783
90,000
900,250
Furniture Factory
740
145,000
1,447,290
Divine Court
601
75,000
735,820
Warehouse of Godly Artefacts
605
93,000
914,500
Cyclopes Islands
1,656
180,000
1,744,050
3x
Wacky Workshop
808
77,000
772,350
Programming Facility
521
150,000
1,514,950
2x 2x 2x
Surveillance Area
459
72,000
716,300
Journey of Jealousy
495
95,000
950,600
Total
8,858
1,219,000
12,050,010
Sidequest - Daedalus and Icarus
Available after quest: Trap for Aphrodite, Level: Journey of Jealousy
Map
Tiles
Clear Bonus
Energy Required
Additional Info
Maps
Video
Daedalus' Workshop
477
94,000
949,800
Tower Of King Minos
635
76,000
752,450
Islands Of Icarus' Flight
772
99,000
928,230
Total
1,884
269,000
2,630,480
Poseidon
Map
Tiles
Clear Bonus
Energy Required
Additional Info
Maps
Video
Shipwreck Islands
461
77,000
772,320
Flooded City
499
77,500
774,400
Ancient City in Ruins
746
97,500
957,150
Poseidon's Temple
902
155,000
1,553,480
Home of Goddess Metis
788
77,500
968,450
Trident Trail
1,584
110,000
1,088,850
4x
Delivery Docks
804
150,000
1,576,388
Breeding Laboratory
555
75,000
699,620
Siren's Sea
808
95,000
950,420
Poseidon's Summer Palace
825
140,000
1,408,150
Family Roadtrip
799
75,000
774,520
Island of Raging Seas
615
95,000
923,220
Total
9,386
1,224,500
12,446,968
Sidequest - Theseus' Heroic Acts
Available after quest: Taming of the Shrew, Level: Island of Raging Seas
Map
Tiles
Clear Bonus
Energy Required
Additional Info
Maps
Video
Perilous Journey To Athens
813
69,000
685,250
Close To Athens
533
78,000
776,250
5x
At The Athenian Gates
705
97,000
965,430
3x
Athenian Forest
555
77,300
773,040
9x
Banquet In Athens
507
91,000
912,270
Minotaur's Labyrinth
662
87,500
874,400
Total
3,775
499,800
4,986,640
Ares
Map
Tiles
Clear Bonus
Energy Required
Additional Info
Maps
Video
Village of Peace
625
80,000
800,405
Spartan Military Camp
611
98,200
990,600
Forgotten Battlefield
1,710
170,000
1,697,950
Ares' Temple
1,306
171,000
1,739,550
Thebes
1,039
79,300
816,735
Fear Fair
845
100,000
1,000,910
Battlefield of Silent Swords
512
86,000
862,350
Forest of Disappearance
984
103,400
1,019,585
Relaxation Resort
499
80,000
784,900
Thermiskyra - City of Amazons
560
100,000
999,350
Volcanic Island in Bloom
1289
160,000
1,607,690
Aphrodite's Apartment
397
80,000
842,850
Total
10,377
1,307,900
13,162,875
Athena
Map
Tiles
Clear Bonus
Energy Required
Additional Info
Maps
Video
Erechteum Temple
207
25,000
254,600
Syracuse Port
206
25,000
265,650
Botanical Garden in Assos
479
50,000
493,340
Athena's Owlery
880
165,000
1,652,550
Library of Greek Philosophers
521
88,000
902,100
Inside Zeus' Mind
541
82,500
825,650
Athena's Court
786
83,000
830,300
Medusa's Lair
1,329
100,000
994,270
2x
Greek Arenas
728
103,000
1,023,280
Battlefield of Gods
394
82,000
857,800
Campsite of Lost Inspiration
1,046
169,000
1,682,440
Outskirts of Troy
1,063
93,000
927,500
Volcano Prison
572
165,000
1,650,080
Unguarded Athens
537
83,000
848,650
Total
9,289
1,313,500
13,208,210
Sidequest - Trojan War has Begun
Available after quest: The Apple of Discord, Level: Outskirts of Troy
Map
Tiles
Clear Bonus
Energy Required
Additional Info
Maps
Video
Island Of Greek Heroes
656
100,000
1,004,320
2x
Shores Of Troy
1,099
89,000
885,590
4x
Camp Of Greek Soldiers
493
79,300
793,100
Trojan Shore Under Siege
683
80,600
807,400
10x
Trojan Battlefield
674
81,000
810,720
2x
City Of Troy
723
104,000
1,039,900
Total
4,328
533,900
5,341,030
Sidequest - Kings Feast
Available after quest: Guardian of Athens, Level: Unguarded Athens
Map
Tiles
Clear Bonus
Energy Required
Additional Info
Maps
Video
Banquet Of King Polydectes
534
85,000
852,400
Athena's Temple
525
85,290
852,900
Cave Of Graeae
712
108,300
1,083,000
Gorgon Island
477
75,980
773,800
8x
Cetus' Coast
391
69,880
713,850
3x
Wedding In Argo
852
79,000
787,350
Total
3,491
503,450
5,063,300
Dionysus
Map
Tiles
Clear Bonus
Energy Required
Additional Info
Maps
Video
Islands of Worship
598
87,000
864,700
Sophocles' Amphitheatre
710
177,000
1,769,100
10x2x5x5x
Winery Islands
627
105,000
1,050,070
Mount Maenadus
652
85,000
851,655
Dionysus' Temple
836
96,000
958,960
2x
Ampelos' Wine Cellar
876
105,000
1,040,740
Cursed Sea
719
170,000
1,686,150
City of Thrace
809
90,000
898,465
Midas' Kingdom
714
105,000
1,048,050
Road to Athens
602
100,000
1,019,500
Littered Athens
572
84,300
843,350
Entry to the Underworld
1,514
170,000
1,710,000
Total
9,229
1,374,300
13,740,740
Sidequest - Lotus Eaters
Available after Dionysus' Priest, Level: Islands of Worship (First Quest in Dionysus) &
The Trojan Horse, Level: City of Troy (Athena Sidequest)
Map
Tiles
Clear Bonus
Energy Required
Additional Info
Maps
Video
Lotus Island
428
78,400
784,300
Shepherd's Island
737
105,000
1,049,890
Floating Island
858
73,000
717,100
Circe's Island
543
86,000
851,550
Underworld Dreamscape
690
107,000
1,068,650
Dangerous Seas
491
86,000
862,500
Helios' Fields
652
48,500
485,320
Ogygia Island
614
85,900
857,600
Shores Of Ithaca
975
73,000
732,050
Total
5,989
742,800
7,408,660
Apollo
Map
Tiles
Clear Bonus
Energy Required
Additional Info
Maps
Video
Sun God's Land
1,039
82,000
810,350
Riverland in Thessaly
398
91,000
913,280
3x
Sunflower Island
645
108,000
1,088,610
Temple of Inspiration
582
87,800
876,210
Apollo's Temple of Sun
550
134,000
1,344,550
Hermes' Mansion
978
105,000
1,048,150
Hall of Greek Megastar
380
87,000
870,500
12x5x
Forest of Greek Huntsmen
732
175,000
1,750,630
Farm of King Admetus
626
107,500
1,074,950
4x
Land of Prophecies
570
185,000
1,862,400
Calydonian Forest
702
109,000
1,086,850
Delphi Outskirts
497
88,000
873,650
Total
7,699
1,359,300
13,600,130
Sidequest - Jason and the Argonauts
Available after completing Delphi Outskirts (Deadly Python 12th Quest in Apollo)
Map
Tiles
Clear Bonus
Energy Required
Additional Info
Maps
Video
City Of Iolcus
495
84,400
844,650
5x
Lemnos
614
80,000
802,850
City Of Cyzicus
569
60,000
606,450
Coast Of Mysia
462
87,240
848,450
3x
Amycus' Fighting Arena
331
40,000
391,200
Island Of Harpies
1,473
110,000
1,125,880
5x
Symplegades
292
39,640
396,400
5x
Ares' Island
404
61,780
615,650
City Of Colchis
739
87,000
860,380
8x
Dragon Coast
940
102,000
1,016,050
Ares' Grove
780
70,000
702,800
Total
7,099
822,060
8,210,760
Hades
Map
Tiles
Clear Bonus
Energy Required
Additional Info
Maps
Video
Hades' Plains
1005
91,000
928,000
Realm of the Dead
1017
117,800
1,194,940
Necropolis of Athens
834
178,800
1,779,320
Hill of Torment
244
108,700
967,350
Orpheus' Journey
581
92,000
911,690
2x
Forest of Eternal Darkness
1187
182,000
1,817,550
4x
Haunted Greek Village
884
180,000
1,816,700
Persephone's Mansion
559
110,000
1,101,850
Dark Realms of Hades
888
91,000
905,550
Rivers of the Underworld
1382
112,000
1,106,000
5x
Elysium Fields
1125
115,000
1,125,800
In Between Three Worlds
465
91,500
912,090
Available after completing Father's Quest 'Rescue Rusty' , Rusty's Prison
Map
Tiles
Clear Bonus
Energy Required
Additional Info
Maps
Video
World Of Ghouls
931
77,500
773,820
8x
Haunted Countryside
945
100,000
1,013,700
Iapetus' Fortress
617
90,000
931,650
Haunted Greece
1,210
164,000
1,635,220
2x
Divine Battleground
806
133,000
1,127,540
7x
Spaceship Of Gods
318
71,500
765,100
Opens New World
Total
14,998
2,105,800
20,813,870
Sidequest - Challenges of the Greek Gods
Available after quest: Fate of the World, Level: In Between Three Worlds
Map
Tiles
Clear Bonus
Energy Required
Additional Info
Maps
Video
Zeus' Challenge
632
140,000
1,379,370
4x 2x 2x
Hera's Challenge
796
120,000
1,199,680
4x 2x 2x
Aphrodite's Challenge
1,358
115,000
1,141,550
Hephaestus' Challenge
513
153,450
1,534,450
5x 3x 3x
Poseidon's Challenge
859
150,000
1,493,860
5x 3x 2x
Ares' Challenge
814
185,000
1,200,410
5x 3x 2x
Athena's Challenge
489
225,800
2,257,110
5x 4x 2x 3x
Dionysus' Challenge
1,006
192,327
1,923,270
5x 4x 2x 4x
Apollo's Challenge
906
190,000
1,878,080
Hades' Challenge
1,192
220,000
2,180,500
6x 5x 2x 4x
Total
8,515
1,691,577
16,188,280
Greek Shields










Each God quest-line has 3 mines with a shield. (30 total) The sections with these shields are hard/expensive.
With these shields you can buy regeneration and capacity items in the shop.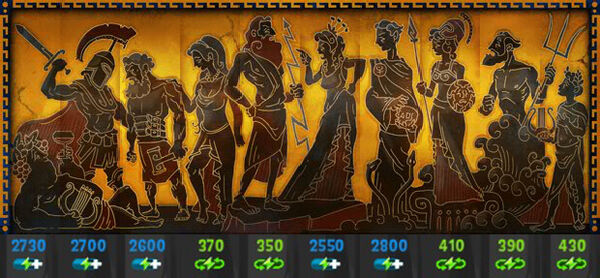 Hera Keys
5 Hera's keys are required to free Rusty
The quest to free Rusty will stay open until you have all 5 keys at the end of the journey through Greece.

Quests details
This page is about mines, stats, maps and videos.
For details about the quests, questgivers, quest bonuses and tasks to complete, go to the Greece Quest-page
Materials
A list of all Greek type materials can be found on the Greek Materials-page
For a detailed list of the amounts of all materials found in the quest-mines go to the Greek Materials Mine-list
Repeatable material mines
For a list with all the details about the repeatable material mines go to the Greek Repeatable Materials-page
Greece Artwork


For various Artwork by Pixelfederation visit Diggy's Greek Artwork collection: https://photos.app.goo.gl/hp4S5zdWXLhKp6WB9
Need Help ?
If you get stuck in a mine, this page offers you all the information and help needed.
Walkthrough maps and You Tube videos will help you get unstuck in most cases. (click on the icons listed behind the mines)
In general using the maps is quickest, in some cases videos might work better(moving puzzles).

You can also consider joining one of the many Diggy-Facebook groups. In most groups you will find very helpful people answering questions fast.
(the biggest ones have the most information stored via the search box found in those groups; all questions have been asked before)
Or have a look in the Official Diggy's Adventure Forum.
For technical problems and any other problem Pixelfederation SUPPORT is happy to help you. An answer most times within 24 hrs.