Jurassic World: Dominion Dominates Fandom Wikis - The Loop
Play Sound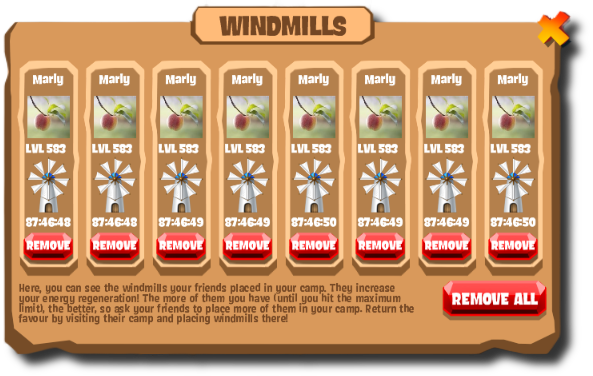 Available on both the Facebook and Portal website versions of the game only. However, you must also have your game connected to a Facebook account.
When you start out in the game you can have a maximum of 5 windmills in your camp. These give you energy per hour. The whole system is expandable to an extra 176 energy per hour.
Your neighbors have to place them in your camp. And you in turn place them in their camps.
The only way to get Windmills is to get them gifted from neighbors as a daily gift.Your neighbors will send them to you.
You can not use them in your own camp they are for you to place in your neighbor's camps and Mr.Bill(for working on the windmill achievement).
The number of windmills you have is listed under extra's in your inventory.
Windmills last for 7 days. Many Facebook groups for the game have a pinned post to request them.
To place a windmill in your neighbor's camp. Click on the Friends icon. Once in their camp you can see on their Windmill if they need any placed. 0/8 means your neighbor needs 8 new mills. No real need to go visit all your neighbors each day to see if they maybe need one. You will get to visit a part of your neighbors that day to collect the extra energy and a quick look at those windmills should suffice as your part of the deal.
Windmills are also an Achievement. Each windmill earns you 5 Experience points. You will need to place over 17,000 to complete the achievement. Placing windmills on Mr. Bill's camp counts towards this achievement, he also "sells" his mills every time you refresh his camp so you can place windmills there all day long as many times as you want.
Holland System
Upgrades the maximum number of windmills from 5 to 8.
Cost
level 25
120
level 40
80 8000
Rotor Enhancer
Increases the energy gained from 8 to 22 per hour, per windmill. 15 levels total.
| | | | | | | | | |
| --- | --- | --- | --- | --- | --- | --- | --- | --- |
| Level 1 | 8 | 30 | 180 | | 48 | 11000 | 90 | 100 |
| Level 2 | 9 | 36 | 60 | | 54 | 3,500 | 30 | 40 |
| Level 3 | 10 | 42 | 60 | | 60 | 4,550 | 45 | 52 |
| Level 4 | 11 | 48 | 60 | | 66 | 5,900 | 68 | 68 |
| Level 5 | 12 | 54 | 60 | | 72 | 7,700 | 100 | 88 |
| Level 6 | 13 | 60 | 60 | | 78 | 8,400 | 120 | 96 |
| Level 7 | 14 | 66 | 60 | | 84 | 9,300 | 145 | 105 |
| Level 8 | 15 | 72 | 60 | | 90 | 10,200 | 175 | 115 |
| Level 9 | 16 | 78 | 60 | | 96 | 11,250 | 210 | 125 |
| Level 10 | 17 | 84 | 60 | | 102 | 12,400 | 250 | 140 |
| Level 11 | 18 | 90 | 60 | | 108 | 14,900 | 280 | 145 |
| Level 12 | 19 | 96 | 60 | | 114 | 17,850 | 305 | 156 |
| Level 13 | 20 | 102 | 60 | | 120 | 21,400 | 335 | 160 |
| Level 14 | 21 | 108 | 60 | | 126 | 25,600 | 370 | 170 |
| Level 15 | 22 | 114 | 60 | | 132 | 30,800 | 410 | 180 |
| Totals | | | 1020 | | | 194,750 | 2,933 | 1,740 |